By Jennifer Coronel
Conscious of their environmental impact, consumers have increasingly sought out sustainable alternatives to everyday products and services. According to a global survey by Nielsen, researchers found that 81 percent of consumers expected corporations to become more sustainable. Not only everyday consumers, but also other stakeholders, public interest groups, and non-governmental organizations (NGOs) are pressuring corporations to become environmentally conscious. Given these various pressures, a company's reputation is becoming more dependent on its efforts to take sustainability seriously.
Many companies have responded to this demand. An increasing number of products claim to be environmentally friendly, from everyday necessities to carbon-neutral services, while companies claim to have reformed their business models toward sustainability. Companies have placed "sustainability reports" on their websites that show the world how they are doing. These reports often display exemplary results of environmental stewardship. So, why would this not be reason to celebrate?
Unfortunately, many corporations have taken the surge of environmental consciousness as an opportunity to engage in greenwashing; that is, conveying a false image of sustainability for a product, service, or the corporation itself. This can be seen in a variety of forms. Buzzwords like "natural" or "organic" on nonfood items are not regulated by the U.S. Department of Agriculture (USDA). This means that these labels can be misused to portray "greenness" in a product without proper certification. And the practice is not limited to labeling consumer goods. Companies have long put on a front of corporate sustainability through marketing efforts and environmental pledges, creating a guise of environmental stewardship in their commercials. While proclaiming their dedication to sustainability, many continue to participate in environmentally destructive behaviors.
A prime example of corporate greenwashing in recent history is Chevron Corp. In the 1980s, the company released an array of advertisements to show off its dedication to the environment. The "People Do" campaign consisted of Chevron employees frolicking in nature, meant to convince the public that they were the "good guys." And it worked. The campaign won awards and was even studied at Harvard Business School. It also worked in another, more sinister way: as a smokescreen to hide the fact that Chevron was violating environmental laws, settling lawsuits for unbelievably high toxic air emissions, and other acts of environmental degradation. Corporations have only gotten worse as time has passed. The major Australian bank Westpac received an industry sustainability award in 2019. However, a deeper look revealed that the bank invests billions of dollars in fossil fuel companies. Unfortunately, this is common practice among all industries worldwide. The stain of greenwashing is even more concerning when we consider that 71 percent of carbon emissions come from just 100 companies. To combat environmental calamities like climate change, corporate greenwashing needs to be tackled.
Why does greenwashing happen? Within the business community, sustainability is often viewed as unprofitable. This is a result of the relatively long onramp of sustainable ventures. While they do prove more profitable than traditional, unsustainable ventures over the long term, a preference for short-term profits has prevented many companies from adopting a more sustainable business model. "Short-termism," as it has been appropriately labeled by Harvard researchers, is pushed by the expectation of constant profit by stakeholders and investors. In turn, this has led companies to greenwash to appease growing consumer demand without risking their short-term profits.  In short, as more consumers display preferences for all things environmentally conscious, companies continue to seek opportunities to profit. This is capitalism in its most basic form: maximizing profits as much — and as quickly — as possible.
How can we even begin to change this? First, we need to fundamentally alter how we do business. Companies must pursue transparency in their business practices and investments alike; that way, consumers who are concerned about sustainability can choose whether or not to support them. Investors and shareholders must also demand sustainability from corporations. Likewise, CEOs should align themselves with investors and shareholders with similar views on sustainability.
To avoid shallow commitments to environmentalism and reduce the chances of greenwashing, sustainability must be integrated from top management down to all managers and employees, to instill environmental values at all levels of the company. Clear strategies to move toward sustainability are the best way to build internal engagement and instill these values within employees on every level. There is no one "right" strategy, but frameworks exist that can be tailored to individual industries. Corporate Social Responsibility (CSR) and "environmental, social, and governance" (ESG) goals can inspire businesses to adopt ethical business models.
A shining example is Ørsted, a green energy company from Denmark. Ørsted has aligned its goals with the Paris Climate Agreement, operating as a carbon-neutral company. The Danish company also provides an investor list on its website, transparently including shares and debt. Another look at the website provides readers with countless opportunities to educate themselves on sustainability and the company's efforts along the way. Shockingly, Ørsted used to be one of the most fossil fuel-intensive companies in Europe. Now, after remodeling its business plan, it has been named the Most Sustainable Company in the world by Corporate Knights Global Sustainability Index, a Toronto-based company dedicated to "clean capitalism." As one can see from this example, it is possible for corporations to switch from carbon-intensive practices and investments and rebrand themselves as environmental stewards.
As we continue our shift toward a more sustainable society, we must realize that the burden of climate change should not only be on the shoulders of the individual. Oftentimes we see people pointing fingers at each other for not recycling or not being as sustainable as they could be. While it is important to promote individual environmental stewardship, it is even more important to recognize that the impact of the individual does not compare with the impact of a multinational corporation. Corporate sustainability is something we should all demand from businesses. While these industries are typically profit-driven, there is a way for consumers to leverage this in their favor. A global survey performed by Nielsen in 2015 found that 66 percent of respondents would pay more for products and services from companies that were committed to positive social and environmental impact. From that same population, they also found that 73 percent of millennials feel the same way. Right now, millennials are the largest consumer group. The fact that nearly two-thirds of the largest consumer market group would be willing to pay a higher price for sustainably sourced products is a huge incentive for corporations to pursue sustainability. However, to avoid more instances of greenwashing and to keep corporations accountable, consumers will need to be both vocal and well-informed. While it has been profitable for corporations to greenwash in the past, the risk of losing a huge portion of their future share of an eco-conscious market is a gamble not even the most ruthless corporations can take.
About the Author …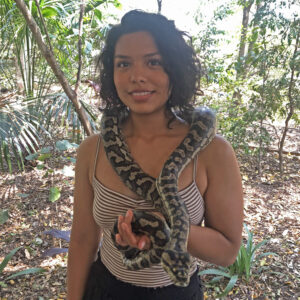 Jennifer Coronel is from Cicero, Ill. She graduated from the University of Illinois in December 2020 with a B.S. in Natural Resources and Environmental Sciences and minors in Business and the Sustainability, Energy, and Environment Fellows Program (SEE FP). She will attend Northwestern University beginning in Fall 2021 to obtain her M.S. in Energy and Sustainability from the McCormick School of Engineering.
This article is the 2020 Janelle Joseph Environmental Writing Contest prize-winner in the Op-Ed category.