By Jane Halloran
Mona Fang is the founder of Karma Trade in Urbana, a sustainable fashion swapping service. A University of Illinois aerospace engineering major with a strong sense of style, Mona is passionate about changing how we view the fashion industry and acquire clothing. Q Magazine's Jane Halloran talked with this eco-conscious entrepreneur to find out how Karma Trade got its start — and why it is crucial to revamp the fashion industry.  
How did an aerospace engineering major wind up in the sustainable fashion business? 
I have sold clothes since I was 15. I wasn't allowed to get a job in high school, and I wanted a secondary source of income, so I sold clothes online. About a year and a half later, my friend and I were at a coffee shop working on our entry for an academic competition. We had to come up with an international business plan for this competition. We had so many clothes that we don't wear, and we didn't want to donate them because we know that donated clothes are sometimes just thrown into landfills. So we thought, what if you could swap clothes? I am sure that you have clothes that I would love to wear and that I have clothes you would love to wear. One person's trash is another person's treasure. The fashion industry makes so many clothes every year and it's just repeated styles from the '90s, from the 2000s, etc. There are so many variations of fashion that can be recirculated. 
How did your business get started? 
I started Karma Trade from the top down and thought in an international scale, considering the financial aspect and operations of the business. We realized this was very feasible and started Karma Trade my junior year in high school. I discovered quickly that it was much harder to create a business than I thought. It was especially difficult to create an app. I thought I could learn how to code easily, but I was so naïve. I created a business plan, and it gave us a lot of insight on where we wanted to go.  
In January 2018, we officially launched Style 360, which was what Karma Trade was originally called. Customers would send Style 360 their unwanted clothes, and we would send back a new set of clothes with the same value based off what style the customer wanted. We realized this didn't work as well as we wanted it to and decided to change the business plan so customers could come to a store and swap the clothes themselves. We began to host clothing swap events as well. Our first event was at North Central College, which was really successful; we just had zero marketing because we only had one day to prepare. The people who came to the event were the students who happened to pass by due to moving out, so timing was on our side.  
Karma Trade's first location was a storage unit for the clothes inventory from that event. Then we rented a space in the Co-Lab for a few hundred dollars a month, put a team together, started up the store, and created even more events. We had to shift our target audience to customers who sell their clothes on online marketplaces. So rather than going through the work of selling a clothing item for a few dollars, why not swap your clothes to get new styles and only pay $1? We held events throughout Champaign-Urbana and got a ton of traction — and created an even stronger team that I am proud of.  
Has the COVID-19 pandemic affected your business? 
We got into our current store in July 2020 when COVID was still happening, but that didn't stop us. Since we opened, we have helped the local community recirculate more than 5,000 clothing items, allowing nearly 400 individuals to build their dream closets.  
We wanted to make sure we were still zero waste while being profitable at the same time. We operate with a closed-loop supply chain. We do not donate our clothes because some charities will send the unsellable clothes to developing countries, mainly in Sub-Saharan Africa, to sell in their second-hand stores. This disrupts their local economies, and most of the donated clothes end up in a landfill. About 250 million tons of textile waste are produced annually, so this is a problem. Instead, we have upcycling initiatives in which we work with high schools and universities to turn our "less than perfect" textiles into trendy new upcycled garments. Karma Trade closes this loop because you do not have to buy anything new, but rather swap existing clothes. 
There are so many facets of sustainability to focus on. What made you choose to tackle the fashion industry? 
I wanted to make an environmentally positive impact on the world. Back in the day, I was really into shopping for clothes with my mom, and that's how we would bond. I realized that these habits were actually bringing me and the environment harm. I could either stop doing it or find a better way to shop. I looked into sustainable fashion online; however, there is no such thing as sustainable production in fashion because you're always disrupting the environment to produce something, especially something so resource-intensive like clothing. 
I chose clothing because there is so much unknown about it. It is so tied in with our egos and how we feel, but we don't notice what goes on behind making clothes. Most people think that clothes are made by machines, but they are made by humans. We think clothes are made by robots because we treat humans like robots. Clothes are being sold at such low prices that it feels like the production process is automated, but it's not. I would consistently watch the documentary The True Cost, about what goes on behind the fashion world and how people are dying from cancer from clothing dyes and the like. I would watch it to motivate myself.  
For every pair of jeans you create, you have to dye it 20-something times in water. That means you have to cycle out a lot of toxic chemicals. This leads to dye pollution, which is terrifying and not talked about enough. People who eat food near areas of dye pollution often get cancer and other health issues. Even the color of the rivers with dye pollution changes as the fashion seasons change. This type of pollution also includes bleach and other toxic chemicals.  
Something that has really impacted me: A woman who I never met read my posts about these things. She messaged me and said, "Mona, thank you for shedding light on these issues. Our government doesn't care about these issues in Ukraine. The factories here are polluting our natural rivers and they used to be so beautiful. Everything is dying and no one cares because the government is so corrupt. Thank you for sharing this. People are getting sick; we just need to know about it and spread awareness." 
We talk about polar bears and how the ice caps are melting, but this is something we can change right now by making less clothing. There was a story about Bangladeshi women who worked in a clothing factory who got a trip to go to Walmart, and they saw the clothes they made on the floor, not cared about, which was crushing to them. That is what makes me so passionate about this industry because there is so much work to be done to improve it.  
According to the EPA, 11.2 million tons of textile waste ended up in landfills last year. How should the fashion industry become more sustainable?  
Instead of creating new fabrics, you can upcycle old fabric and turn it into new clothing to sell. You can take a skirt from the '90s that is out of style now and redo it to make it new. The challenge is industrializing this process, so involving local artists and creating a movement is essential. Selling these items would mean you have to sell them at higher price points. The other option is to recirculate clothing, but I think people are gravitating more toward thrift stores now because of the markdowns. There is no ethical production when creating new clothing. 
What has been the best part about creating Karma Trade? 
Ideating, and thinking about what can be possible. You can't create anything without first thinking about it. I like to look at objects in the world and remember that they started with an idea. In a company, for example, people want a service. But the question is, can we make it happen?  
What are the next steps for the company? 
Looking into the future, our potential for e-commerce is great. We have a large following on social media and want to grow regardless of location. We want to do this sustainably, especially in regard to shipping. To keep carbon emissions low, we would like to build hyper-localized shipping routes with pickup and drop-off locations and mini-warehouses near our customers. One idea we have is that for every package sent, an extra $1 in shipping costs could go toward planting a tree. I want to have an environmentally positive company and avoid greenwashed marketing.  
In the long term, I am still interested in running this company in conjunction with my career in aerospace engineering and plan to work in China and the United States. My father, who is also an entrepreneur, runs an exhaust engine testing company in China, and I would like to work for him. I treat both China and the United States as my home. I want Karma Trade to be run by a collective of people since it was created by a collective of people.
About the Author …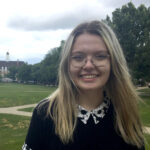 Jane Halloran is from South Elgin, Ill. She graduated from the University of Illinois in August 2021 with a B.S. in Agricultural & Biological Engineering. She previously worked as a Research Assistant studying clay mineralogy and imaging with Research Assistant Professor Jorge Guzman. She is interested in working on a small farm or a nonprofit in the future.
This article was submitted to the 2020 Janelle Joseph Environmental Writing Contest.