By Brandon Hausser
I stared at the large, colorful box I held in my tiny, eager hands. I couldn't believe my eyes. My parents had given me "The Green Grocer," a massive LEGO project meant for someone seven years my senior, but I was determined to show the world that I could do it. It was just me and the thousands of beautifully colorful and incalculably craftable pieces against the world. I knew eventually one of the pieces would find its way to stab the most sensitive parts of my foot with one of its notoriously tough corners but, in that moment, I didn't care. I had a job that would last me endless fun-filled hours. Tearing through the crinkly, clear plastic packaging, I organized the pieces by color and size and crafted a mini, three-story building for my mini-people to call home — a journey in make-believe engineering I would repeat with a gift that kept on giving for more than a decade.
Now, however, I look back on that cherished childhood memory through the lens of a concerned environmentalist. I, like millions of people in the world, love the boundless creativity and fun that LEGO brings. But the packaging and plastic bricks themselves, precisely because of their material indestructibility, threaten long-term effects for the children of future generations. After decades with little concern for the environmental harms of their wildly popular product, will LEGO's recent promises of sustainability and corporate change be sincere enough to preserve my untainted memory of the beloved building blocks of my youth?
My concerns about LEGO are rooted in the company's use of petroleum-based plastics in the majority of their products and packaging. Nearly a tenth of the world's annual oil consumption can be traced to the plastics industry, of which the vast majority never gets recycled and repurposed. This demand is projected to more than double by the middle of the century. Today, we personally consume a credit card's worth of microplastic each week, while plastic chokes the oceans at the rate of one dump truck per minute.
Fortunately for LEGO lovers, the company has recently joined a cultural shift to contain the increasing hazards of our fossil fuel-based society. A wide-ranging transformation in values for a company as old and well-established as LEGO is quite remarkable. While the modern-day LEGO brick has existed since 1958, the company actually has roots predating the Great Depression. In the early decades of LEGO, the toys were made out of wood, but after multiple factory fires and resource scarcity following World War II, the company adopted the new and easy-to-mold acrylonitrile butadiene styrene — ABS for short — as its primary material for toys. Following the post-war switch to plastic, the company's financial and cultural success accelerated across the globe. By the 1980s, LEGO was a worldwide phenomenon; the company soon became one of the world's top 10 toy manufacturers. Now a brand with generations of recognition and an impressive presence in popular culture — including not only the toys themselves, but also movie and video game franchises, amusement parks, and apparel — LEGO continues to look toward the future of not just the company, but the planet.
In LEGO's latest Responsibility Report, the company outlines its vision for a sustainable future and its own role in it. The report emphasizes a well-rounded approach to becoming less dependent on environmentally intensive processes, from packaging, to the manufacturing of LEGO's famous bricks, to resource management and disposal.
As a company, LEGO has created its own environmental goals and seems sincerely motivated to meet them. In 2015, the family-owned holding group of LEGO, KIRKBI, bought a third of a wind farm in the North Sea that helps to balance its energy use for its offices and manufacturing plants. Its vision by 2030 is to implement environmentally friendly packaging in all of its products, lessen the resources it takes as a company to produce goods, and invest in renewable energies.
Yet the centerpiece of this transition is the iconic LEGO brick itself. While the company uses 20 kinds of plastic to fit the proper function of different types of bricks, ABS has been the main ingredient in the vast majority of LEGO pieces for almost 60 years. The unique chemical disposition of ABS is what makes it so attractive to LEGO. Once heated to at least 230℃, the hard plastic pellet that originally arrives at the factory becomes a moldable liquid and susceptible to coloring by dyes. Due to its ability to retain its exact form forever once cooled, flexible strength, and capability to be remelted and recycled into the molds, it is the perfect chemical candidate for an indestructible child's toy. Any witness to a kid's playdate with LEGOs can attest that an unbreakable piece of plastic is an absolute must to withstand the creative, if sometimes clumsy and chaotic, forces of childhood imagination.
Unfortunately, though, the ingredients that give ABS plastic its name — acrylonitrile, butadiene, and styrene — are all fossil-fuel derived oils. While the company publicly claims its commitment to "finding sustainable materials to make our products," a complete shift away from ABS is a lofty challenge, especially when 80 percent of its product is made from the compound. Any possible alternative would have to meet the company's unwavering dedication to rigorous quality and durability standards, leaving us to question: Can LEGO actually make the jump?
A breakthrough in one of the other 19 plastics used in LEGO production has made recent headlines. A total of 80 new LEGO pieces are now being produced using a different, more sustainable source. The new plant-based pieces are sourced from Brazilian sugarcane in partnership with the World Wildlife Fund (WWF). A first-time LEGO user would quickly perceive that the feel of the classic brick is different from that of a plant-based piece. A LEGO brick made of ABS feels rock solid, appears shiny and smooth, and is completely inflexible, while the polyethylene pieces from plants feel more textured, appear matte, and are much more bendable. The LEGO Responsibility Report prizes this transition to sustainable sourcing for 80 of its pieces in its "performance highlights" section, ensuring that the feel and quality of the sustainable pieces passes its rigorous standards for the "play value" of LEGO.
It is important to understand the negative externalities that this new approach to producing a bioplastic can create on the environment. Sugarcane requires large quantities of water. Growth in a sugarcane industry that is increasingly threatening the Amazon rainforest is — to say the least — an environmental alarm bell. Massive economic expansion fueled by the Brazilian government's obliteration of environmental protections for one of the planet's largest carbon sinks only exacerbates this crisis.
LEGO claims that its membership of the WWF's Bioplastic Feedstock Alliance will ensure the protections for worker rights, community resilience, land and water stewardship, while making real a circular economy based on bioplastics. While these values are noble, a deeper look calls for a healthy dose of skepticism. According to BreakFreeFromPlastic, an environmental organization focused on eliminating plastic pollution, four of the 10 companies shown to be members of this alliance also land in the top 10 list of the world's largest corporate plastic polluters. Additionally, several of those companies have directly contributed to environmental degradation like illegal deforestation and local water depletion in the past.
The decades-long efforts of corporations to greenwash their business practices — in an attempt to convince an environmentally conscious public that their motivation is not just for profit, but also for the environment's health — are countless and all too familiar. The Keep America Beautiful campaign, most notable for the classic "Crying Indian" commercial, was an initiative backed by bottle companies such as Coca-Cola and the Dixie Cup Co. to shift the blame and responsibility for littering and its cleanup away from the companies producing single-use materials to the actions of individuals. In the 2015 Volkswagen emissions scandal, the car manufacturer rigged its diesel engine models' emission control computers to display low, acceptable emission levels during testing — when in reality the cars emitted 40 times the acceptable rate set by the EPA. Just these few examples demonstrate that no matter how a company manufactures its goods, an outward show of environmental consciousness can be good for business, even if it is not good for the environment. This includes plastic toys like LEGO.
The Millennial and Gen Z generations now constitute the largest, most powerful consumer group in the United States, and corporations are beginning to prioritize the eco-consciousness that characterizes their consumer choices. According to data from Nielsen, a company that researches the preferences of consumers, the environmental consciousness of a company has never been more commercially important. Among millennials alone, 83 percent believe that it is imperative for a company to implement environmental programs. Three out of four say they would change consumption patterns to lessen their environmental impact. Because of this cultural shift in consumption from convenience to sustainability, it has never been more important to keep an eye out for dubious corporate claims.
LEGO and its publicized 2030 goals of sustainability shouldn't escape scrutiny and evaluation, especially at a time when a larger share of consumers is making the Earth's health a priority. Yet, it's not unreasonable to believe that LEGO is making an honest effort to better the company's use of natural resources and lower its environmental footprint. Although 15 billion of the bricks made each year are still formed with ABS, with no revolutionary bioplastic to replace it on the horizon, the steps LEGO has taken to transition to biopolyethylene are potentially significant.
LEGO claims it is aware of greenwashing's pitfalls. The company doesn't specify biodegradability as a goal since doing so would conflict with the durability their bricks are known for, especially when studies show that it could take 1,300 years to break down in the ocean. This type of transparency with regard to environmental initiatives is a path that more global companies should strive for, as opposed to the greenwashing deceptions many have practiced for much too long. LEGO's multifaceted approach to sustainability, which includes using renewable energy sources to power offices and manufacturing plants, the introduction of biodegradable packaging, and a near 100 percent recycling rate within the company, shows LEGO is at least making a commitment to today's children and those of the future, albeit within the framework of "green capitalism."
But in the bigger picture, LEGO's business model still depends on a model of infinite growth and exploitation of our planet's natural resources, perpetuating increased levels of both plastic waste and greenhouse gas emissions. No matter how carefully actions are taken to sidestep the inevitable environmental consequences, ultimate sustainability — setting a specific limit of resource extraction for the planet to healthily replenish itself each year — will be out of reach in the pursuit of ever-enlarging production and consumption.
It will take the critical attention of young consumers and their parents to determine if LEGO really means what it says. I hope environmentally concerned LEGO aficionados like me keep pressure on the company to stick to the promises it made to us and to the planet. I want a future where my own 8-year-old can eagerly tear through paper packaging to build their own beautiful, plant-based monument to creativity and joy. I'll happily tread on the corner of a brick buried in the carpet and smile through the pain, if I can be sure the toy I've loved since my childhood is no longer so painful to the planet.
About the Author …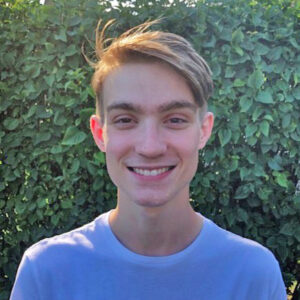 Brandon Hausser graduated in 2020 with a degree in Earth, Society, and Environmental Sustainability. He also earned a minor in Urban and Regional Planning and the Certificate in Environmental Writing. He plans a career in environmental preservation and conservation.
This article was written for ESE 498, the capstone course in the Certificate in Environmental Writing, in Spring 2020.