By Melissa Wagner
If you could walk a thousand miles, you could make it from Key West, Fla., to St. Thomas in the U.S. Virgin Islands — provided you could walk on water. St. Thomas is only about 32 square miles, and it takes about an hour to drive from one end of the island to the other. Like the British, you'd drive on the left side of the road. Like an American, though, your wheel would be on the left side of the car.
But if you were there on Sept. 6, 2017, you'd be getting pummeled by a Category 5 hurricane. A Category 5 storm results in almost complete destruction of all mobile homes, commercial signage and fences, nearly all trees snapped or uprooted, a high percentage of frame homes extensively damaged, and most power poles downed, isolating residents for weeks or months. For St. Thomians, this abstract enumeration of extreme weather threats became all too real.
Makil Bedminster, a native islander, was battened down with his family in Estate Bovoni on the south side of the island on that fateful day in September. They filled up the car and a few gas cans, purchased water, batteries, and generators, and reached out to their friends and family on the mainland. They had done this type of thing before. The last time St. Thomas saw a hurricane as destructive as Hurricane Irma was in 1995 with Hurricane Marilyn. Makil was only 2, his parents having moved to the island from nearby Dominica so that he and his siblings would be born U.S. citizens. They didn't expect to lose the roof of their home to Marilyn that year, but they didn't scare easily. They found a home among what Makil calls an "eclectic array of ethnicities.
"There's no sense of hierarchy when it comes to social class," Makil says. "There's not a big difference between the rich and the poor or the black and the white or anything like that."
A utopia, in other words, at least through mainland American eyes. An island full of lush flora and fauna, crystal clear waters with majestic sea turtles, and people as warm and welcoming as the sun. Makil works part time on the island as a photographer, showcasing the people and places of paradise. In the evening, he works as a bartender, pouring island staples like margaritas, bushwackers, and Coronas with lime.
Kelly Jordan, a 24-year-old Illinois native and loyal patron of Makil's work establishment, couldn't have cared less about the threat of a hurricane. She was running on island time (not that she didn't in her past life in the Chicago suburbs, but at least on St. Thomas it was socially acceptable).
In the days leading up to Irma, Kelly was bombarded by her family with questions about how many gallons of water she had purchased, whether she'd be moving to ground higher than her only slightly-above-sea-level apartment, and with offers to pay for a plane ticket home. She brushed off all questions and offers and instead reassured them that she had plenty of board games and enough booze to intoxicate a small village.
Kelly had moved from Illinois to the island in 2013, so having not experienced weather worse than a few feet of snow and below-zero temperatures, the idea of trouble in her St. Thomas paradise sounded as trivial as tourists squabbling over the high price of souvenirs.
And then came Irma.
Monitoring a monster storm like Irma is something that is, perhaps surprisingly, much easier to do off island. The process has changed drastically since the calamitous Hurricane Andrew (1992) and even the more recent Hurricane Katrina (2005). Traditional media still exist, but crisis communication has taken on a notably different form. Instead of turning to a print newspaper to read about predictions the day a hurricane is scheduled to hit and reading about the aftermath the following morning, news outlets post live updates to their digital platforms.
Social media has also turned into a valuable source of news, with citizen journalists like Harold Defrieze, owner of the "What's Going On, St.Thomas?" Facebook page, posting videos and descriptions of the building storm in real time (content notably different from his usual announcements of bar specials and Full Moon parties). On the day Irma hit in the late, late summer of 2017, nest cameras also displayed live feeds of resort properties overlooking the ocean. But the best view, and the scariest, came from the satellites that send real-time images of developing storms to earth, and share them with websites like Google that set up storm tracker pages, allowing viewers to follow a digital narrative of impending doom.
At about 1 p.m. Sept. 6, Irma approached St. Thomas. Kelly was texting her family through an app called Firechat that uses Bluetooth to send messages through any cellular device with the app, bouncing all the way from Illinois to the islands. The cybersecurity behind Firechat is questionable, as the messages are not encrypted, but most St. Thomas residents valued the possible post-storm, no-service means of communication with mainlanders higher than the risk of a hacked phone. At about 1:15 p.m., the island went dark. Harold Defrieze's video postings came to a halt. The live feeds from resort cameras lost connection. Google's storm tracker showed the Category 5 storm inching over the Caribbean sea, dwarfing little St. Thomas and the even tinier surrounding islands.
The events to unfold could only inadequately be described as a horror movie. You go to the theater for the entertainment, the popcorn, and with the hopes of jumping out of your seat a couple times. But then, in no time, you go home — you return to your bed safe and sound. When real-life Irma began to creep onto the shores of St. Thomas, it happened sickeningly slowly, and there was no escape. Millimeter by millimeter, Irma was moving so little that millions thought the monitor was frozen or the tracker wasn't refreshing properly. But this was no technical glitch …
For almost eight hours, Makil, Kelly, and the rest of St. Thomas were whipped relentlessly by the brutal winds and fierce rains of a Category 5 hurricane. Talking heads on mainland TV talked about Irma all day, but only about the storm's potential visit to Florida, home of the admittedly vulnerable retirees of the nation. For the mainstream media audience in the Midwest, for example, it was like the entire Caribbean did not exist except as a doorstep to disaster. Like Kelly's friends had not spent their afternoon holding a heavy, sopping wet mattress up to the wall where the sliding glass doors had been yanked from their frame. Like the patients in the hospital on life support were not switched to the same portable generators used on camping grounds at music festivals. Like the islanders did not cower in their bathtubs after the roofs of their basement-less homes had been swept away like feathers in the wind. Like people had not left shelter to survey the damage while the eye of the storm passed over the island, and found themselves stranded when the most destructive part of a hurricane, the wall of the eye, returned with a vengeance.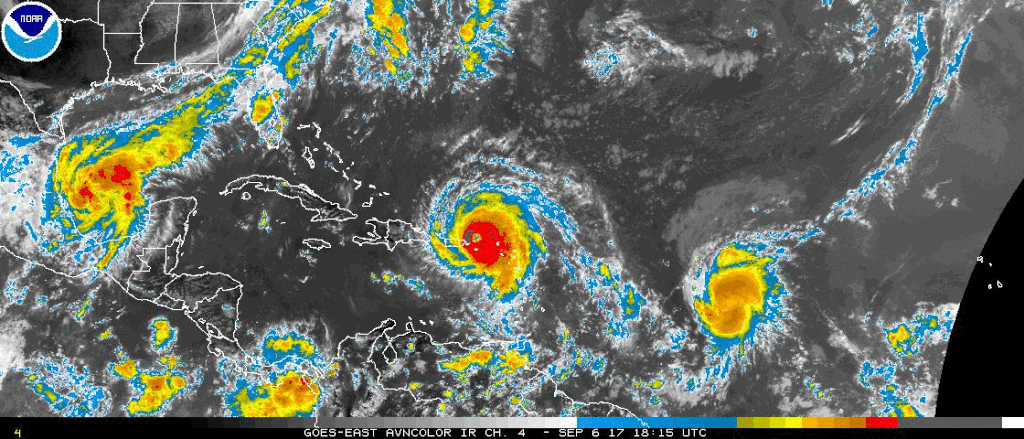 Irma's advancing eyewall passed directly across St. Thomas and surrounding islands. Credit: NOAA
After seeing the satellite images and following Irma's destruction on the news, Kelly's Illinois family was aware that it might be difficult to contact her the day of or the day following. Phones might not be getting service, and power might be out. So Wednesday passed. Thursday, too. Then Friday, Saturday, and Sunday — and nary a text message or call. They were prepared to not hear back for a day or two, but an entire week without contact from someone who lives through her cell phone is nightmare material.
Makil's mainland family was less concerned. Having experienced hurricanes before cell phones and Facebook, immediate contact wasn't expected. Makil was able to get a call out after four days of living in primitive conditions — and that's not just speaking to the lack of technology. Over the four days, he and his family equipped themselves with saws and axes and worked on clearing the roads of the downed power lines and trees, combined with dangerously sharp debris that prevented them from getting the car any meaningful distance and to higher ground where a spotty signal was available.
"It was pretty messy," Makil said. "It was tough. It was busy. There wasn't much we could do but clean our roads so we could leave the neighborhood."
When Kelly's panicked parents finally got in touch with her a week later, they asked if she was fine. She wasn't. All of her friends were alive, but only few had shelter, some had water, and only she had power. Luckily, the proximity of Kelly's apartment to the hospital meant that her street was prioritized in re-establishing electricity. Her family had minimal contact with her during the next two weeks but heard about arrests over curfew violations, hours-long lines for water, and muggings for generators. Eventually, she and her friends secured spots on a boat to Puerto Rico. Kelly said the boat carried about 30 people and about 20 dogs, and the only reason they made it on was because her friend won the "staph infection lottery" after bathing in a pool with a roof in it.
Climate-related Disasters
The hurricane season of 2017 decimated entire swaths of land and displaced thousands. Suffering the brunt of Irma's force, the nearby island of Barbuda was essentially leveled. The question must be asked: Are these hurricanes part of a bigger climate picture? Upward trends on average annual temperatures as well as sea levels continuing to rise point to yes. In answering the question of how climate change will affect island lives and demographics, it helps to consider hurricane evacuation behavior, as it reveals a group's willingness to stay (or leave). After all, the island is its people. The islanders are the ones who created the unique culture of St. Thomas and preserved a tropical ecology synonymous with blissful escape.
A 2017 study on evacuations prior to Hurricane Sandy shows that individuals who rely on a variety of media for weather-related information are more likely to evacuate than those relying primarily on the internet. In September 2017, Hurricane Irma left hundreds of thousands without power, leaving islanders without access to television and internet. This makes the results of this study especially troubling, considering Hurricane Maria made landfall only two weeks after Irma. With no cell service, islanders retreated to traditional forms of media like newspapers and radio.
"Everyone kinda knew it was coming," Makil said, "(but) I wouldn't say everyone was prepared."
A much earlier study, from the 1990s, offers different reasons for hunkering down. Commonly cited reasons for weathering a storm include wanting to protect property, wanting to protect property from looters, and fulfilling obligations to employers.
"During the storm, we were mopping up for 10 hours straight," Makil said. "You know, as opposed to if we were off island, and then we couldn't get back to our house to mop up that water for two weeks, where now there's mold. Being there when it's happening, when it comes to your house, it's a bit more of a smart move to be present in a time like that."
While expats and temporary residents may also have an interest in property, they have little risk to their livelihoods in terms of employment. Kelly could live without the sectional she called her "first big-girl purchase," but a native islander with four kids working at a resort pummeled by Cat 5 winds can't live without a job.
After the hurricanes, Makil's mother and brother were left without work and had to leave the island. "He sells timeshares," Makil said. "Most of the main hotels on the island are still closed. Most of the main establishments that do timeshares aren't open. There's no need for employees, so at the moment he's just at a standstill." His mom has returned already, but his brother's future is uncertain: "It's not like he doesn't want to return, but it's all based on the job opportunities."
While many of the Caribbean islands have rebounded, now welcoming as many cruise ships and tourists as they did the summer before Irma, the recovery is still incomplete. Vital infrastructure — buildings, roads, electricity, and water — will take years to fully repair, while some evacuees — St. Thomas's human assets — still trickle back from the mainland states.
While Makil prizes the island for being so diverse and integrated, underlying circumstances reflective of centuries of oppression of minority populations remain. A study based on U.S. Census data determined the most "socially sensitive" areas in St. Thomas. In these areas, the population has more disabled persons, more families with five or more children, more kids under 5 and adults over 65, and more people living in group homes or institutionalized facilities than the rest of the island. In other words, far higher vulnerability.
The populations in these areas also have fewer vehicles, less telephone service and less internet access. These socially sensitive areas tend to fall toward the center of the island, away from the picturesque shores with the multimillion-dollar properties. Low-income public housing is concentrated there.
While everyone can gather around the campfire on the beach at night and chat like old friends, they've come from different places. The situations they go home to and the opportunities available to them if they leave are not the same. In the event of a hurricane, evacuating requires island natives to pay for flights or ferries and suffer the costs of leaving jobs. Natives also must have friends or families on the mainland to stay with; if they don't, potentially costly temporary arrangements must be found. FEMA provisions are an option, but they are limited. Add in the fact that islanders can't know how long they'll be gone, and weathering the storm becomes a necessity.
Happy Returns?
But if the storm is not weathered, who comes back? Because Hurricane Katrina occurred more than a decade and a half ago, U.S. census data serves as a good source of general information regarding pre- and post-hurricane demographics over time. And no, there is no better data than that from the U.S. Census or FEMA. There were no real systems in place to track evacuees and divert resources where necessary in 2005 except simple population counts before and after.
A study published in 2014 found that 53 percent of pre-Katrina New Orleans residents returned to the metro area, while only a third returned to the same home. According to the study, "most of the displaced adults likely faced considerable economic and institutional barriers in being able to move back to the city, such as the lack of affordable rental housing." What's really telling is the finding that blacks were considerably more likely than non-blacks to be living elsewhere than New Orleans a year after Katrina. It isn't a secret that people of color make up the greater part of populations requiring government assistance in Louisiana, a consequence of centuries of economic marginalization. With public housing complexes demolished and development at a near standstill, people who lost their homes might have found it cheaper to start over somewhere new. Meanwhile, investors and people with millions in their savings accounts were able to scoop up land for basement prices to build their McMansions and country clubs.
Now, it's clear that New Orleans and the Caribbean Islands are very different places, but they may have enough in common to provide useful predictions. Sure, Hurricane Irma and Hurricane Maria destroyed lots of hotel property, but many of those establishments already have been bailed out by insurance. The hotels might be rebuilding — but what about their employees, and their homes? They haven't had the chance.
For example, Irma destroyed St. Thomas' Tutu Housing community that is now home to only 160 of the 285 families who lived there pre-Irma. More than seven months after the hurricanes, in spring 2018, Makil said that his community was in the same state as after the storm, which means less than half of the former Tutu families were still displaced. Those families were relocated to the mainland, but after FEMA cut them off they were on their own.
Meanwhile, the abandoned neighborhoods on St. Thomas that haven't been rebuilt are ripe for "redevelopment." So rich, indigenous communities are at risk of being whitewashed into just another Caribbean resort strip populated by Jimmy Buffett-style airport Margaritaville bars.
When you ask expats and temporary residents like Kelly why they moved to St. Thomas, you get a variety of answers. What's more interesting than the reasons they come is the reasons they stay — and even more interesting, the things they value after living there for a few years. When the census was taken in 2010, 2.4 percent of the U.S. Virgin Islands population had moved there from the mainland U.S. within the past year, making the total of mainland U.S.-born residents about 16 percent of the island's population of just over 50,000. These new islanders might have been drawn to the island by the tourism commercials featuring tropical drinks and infinity pools, but that's not what they stay for.
A good way to understand the difference between tourists and temporary residents or expats is to consider "cruise ship days." The island can look very different depending on when you go. About once or twice a month, Royal Caribbean's luxury ship Harmony of the Seas meanders into port at Crown Bay. The Harmony is the second-largest cruise ship in the world and brings more than 6,700 people to the island, and there's almost always another ship of about 3,000-4,000 docking on the same day. On the busiest cruise ship day of the month, there is an 18 percent increase in the population, made up of Hawaiian print shirt-wearing, margarita-chugging tourists. U.S. transplants like Kelly avoid the cruise ship visitors like the plague. While she, like many of the expats and temporary residents, were once indistinguishable from the tourists, their time on the island absorbing its culture and natural beauty has led them to an appreciation of the island's natural elements — and there is nothing natural about neon green margarita mix.
While native islanders who don't work in the tourism industry also tend to avoid the ports on Harmony days, they would never wish them away. After Irma and Maria, Royal Caribbean, Norwegian and Celebrity all canceled visits to St. Thomas through the end of October. Tens of thousands of potential visitors were rerouted to the Western Caribbean, an area largely unbothered by the 2017 hurricane season. More than 100 shops in Charlotte Amalie, the largest city on St. Thomas, cater to tourists. With no cruise ships for over two months, the islanders subsisting on tourism income were faced with wrecked homes and stores and no money to rebuild them.
Shop owners weren't the only ones suffering from lack of tourism. Resort staff fared no better. Many of the main hotels on the island still weren't welcoming guests more than seven months after the hurricanes. The Frenchman's Reef, which is likely to need a year's worth of repairs before reopening, employed more than 400 full-time and part-time workers alone. "A lot of people leave or have left for a lot of different reasons, but the job opportunity is probably one of the main ones," Makil says.
Yet natives weren't the only people to suffer losses. Many businesses in St. Thomas are owned by expats and former mainland-U.S. residents. Enkai, a sushi restaurant in Crown Bay owned by former mainlander Steven Petsche, collapsed under hurricane-force winds. Even after a mostly unsuccessful attempt to crowdfund a rebuild, Petsche stuck around. He posted on Facebook every few days offering free labor and dry goods to anyone in need. Once, he posted about working three part-time jobs. A couple times, he talked about finding a new location. Often, he talks about his insomnia. Petsche obviously has fewer ties to the land than the natives, but all of the effort he put into putting down roots has been washed away by the storm.
Natural Recovery
Rebuilding human infrastructure is one thing, but the environment is entirely another. The lack of a restaurant is obviously bad for business, but you can't just ask Mother Nature to pick up the physical pieces of that restaurant strewn across the pier and shore and restore the biological balance. This happened to Petsche and also to Mikael Doumeng, who posted on Facebook in March his relief that the fresh water runoff and flooding over his resort property (that had suffered tens of thousands of dollars worth of damage itself) had finally stopped. He included photos of the seriously eroded public beach at Bolongo Bay and added that the U.S. Army Corps of Engineers had visited and confirmed what they already knew.
No articles were written about Bolongo Bay; after all, it's a public beach. If it's not making money, it isn't getting any. According to Makil, only the big businesses on the island have received insurance money. On the topic of FEMA, he says: "When it comes to the residential and personal aspect, I myself and a lot of people that I know didn't find it very useful."
While the islanders may not have been able to rely entirely on FEMA, they do rely on each other. Born out of the Irma tragedy was the slogan "V.I. Strong," emblazoned on flags, on Facebook profile pictures, and beautiful street art on St. Thomas. The islanders have exhibited their extraordinary resilience. And with that, there's hope. There's the launch of former U.S. President Bill Clinton's recovery efforts to improve children's health in the U.S. Virgin Islands and FEMA's announcement of plans to improve the rebuilt power grid to withstand 200-mph winds.
That said, "anyone who has structural damage is rebuilding a lot stronger," Makil says. Given the perennial threat of destructive hurricanes, and their increasing power due to climate change, infrastructure as strong as its inhabitants is beyond necessary.
Kelly has already announced she won't be headed back anytime soon. She's keeping Trip, her St. Thomian dog whom she loves even with heartworms. She's also keeping Ben, her St. Thomian boyfriend whom she loves probably less than Trip. But she said she's not ready to experience anything like Irma ever again. She knows she's lucky to have the option not to.
Meanwhile, Makil is still on St. Thomas — and plans to be for the foreseeable future. He hopes his siblings will return and that things will one day return to normal, even in this new Caribbean with its yearly hurricanes on steroids.
"You never know," he says. "You just have to hope for the best."
Slider photos by Makil Bedminster and Kelly Chapman 
About the Author …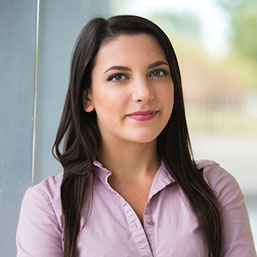 Melissa Wagner is from Chicago. She is a 2018 graduate from the University of Illinois at Urbana-Champaign with a bachelor's degree in News-Editorial Journalism and a minor in Public Relations. She is pursuing a career in public relations with a focus on Corporate Social Responsibility (CSR). This article was researched and written for ESE 498, the CEW capstone course, in Spring 2018.
WORKS CITED
https://weather.com/safety/hurricane/news/saffir-simpson-hurricane-wind-scale
https://www.nasa.gov/press-release/long-term-warming-trend-continued-in-2017-nasa-noaa
https://www.scientificamerican.com/article/natural-climate-patterns-create-hot-spots-of-rapid-sea-level-rise/
Sadri, A. M. (2017): "The Role of Social Networks and Information Sources on Hurricane Evacuation Decision Making", Natural Hazards Review, 18(3)
Baker, E. J. (1991): "Hurricane Evacuation Behavior", International Journal of Mass Emergencies and Disasters, 9(2), 287-310.
Richards, G., & Department of Planning and Natural Resources (2009): "Coastal and Estuarine Land Conservation Plan for The United States Virgin Islands"
Bliss, L. (2015, Aug. 25): "10 Years Later, There's So Much We Don't Know About Where Katrina Survivors Ended Up", CityLab.com  (retrieved 2018, Feb. 5)
Sastry, N., & Gregory, J. (2014): "The Location of Displaced New Orleans Residents in the Year after Hurricane Katrina", Demography, 51(3), 753-775.
Kossler, B. (2017, Sept. 15). "Residents of Damaged Public Housing To Be Relocated", StThomasSource.com (retrieved 2018, Feb. 5) 
Insert cite for 2018 hurricane season predictions
https://www2.census.gov/census_2010/06-Island_Areas_DPSF/Virgin_Islands/
http://viconsortium.com/featured/pence-in-first-visit-to-usvi-says-trump-administration-committed-to-help-territory-fully-recover/
https://www.facebook.com/plugins/post.php?href=https%3A%2F%2Fwww.facebook.com%2Fmikael.doumeng%2Fposts%2F10216050422161769&
https://www.facebook.com/plugins/post.php?href=https%3A%2F%2Fwww.facebook.com%2Fmikael.doumeng%2Fposts%2F10216097800746204&
https://www.caribjournal.com/2018/04/04/bill-clinton-spearheading-big-caribbean-recovery-effort/
https://www.fema.gov/news-release/2018/04/02/us-virgin-islands-will-have-much-stronger-power-grid
https://source.colostate.edu/slightly-above-average-2018-atlantic-hurricane-season-predicted-by-csu-team/