By Kratika Tandon
Richard Lazarus grew up in Urbana, Ill., and enrolled at the University of Illinois Urbana-Champaign a couple of weeks after his 17th birthday. Known today as a pioneer in the field of environmental law, he created a path from the beginning by fashioning his own major at the U of I — before environmental law was even an accepted discipline. Since then, Lazarus's lengthy career has been highlighted by arguing environmental cases before the U.S. Supreme Court and serving on the U.S. Department of Justice transition teams for Presidents Bill Clinton and Joe Biden nearly three decades apart. As a Professor of Environmental Law at Harvard University and one of the preeminent experts in the field, he is passing his knowledge on to the next generation. He returned to his hometown during Earth Week in April 2022 to share his experiences and his hopes for the future with the University of Illinois community. Ahead of his visit, Q Magazine's Kratika Tandon sat down with him for a Q&A.
Tell me about your background and how you got involved with environmental law.
It's fairly interesting. I went to University Laboratory High School (Uni High) in Urbana and graduated at age 16. I looked about 8 years old. When I first went to college in Illinois, I was way too young to be there. The U of I Police used to constantly try to kick me off campus. I had to show my ID and claim that I wasn't a high school kid, and I actually should be on campus. Anyway, I didn't have any idea of what I wanted to do. After my first semester there, I left school and I spent the semester traveling mostly around Europe. And when you're 17 years old, you think you're pretty old — and I thought I was pretty old. It's during that period that I decided on environmental law for my career. I was looking for a combination of things, and I was trying to identify something I could care about and something I would be good at. I wanted both. I picked environmental law because I was interested in politics and public policy.
I remember in June sitting down with my UI course catalog trying to decide what classes I should take if I wanted to be an environmental lawyer. I flipped through the catalog, trying to decide what I should major in. Because I knew what I wanted to be; I just didn't know how I wanted to get there. I flipped through the catalog, and I naturally arrived at the courses beginning with the letter "C" right away. And I saw there was a course in environmental chemistry, so I thought, "OK, I should get a bachelor of science degree in chemistry." And then I kept flipping and I got to "E" and I saw a course in environmental economics, so I said, "OK, I should also get a separate bachelor of arts degree in economics." And that's just how I did it. There was no environmental studies program back then. So, I had to create it myself. And people would ask me, "Why are you getting two separate bachelor's degrees in chemistry and economics?" And I would say, "Pre-environmental law," and people would most often say, "What's that?" Because it didn't then exist. The EPA had just been created, the Clean Air Act just passed, the Clean Water Act had not yet passed, so it was fairly early on. With the benefit of five decades of hindsight, I now appreciate that I was a bit disturbingly focused and very strategic for a 17-year-old punk. But that's how I began on the pathway I have been on ever since.
Can you tell me a little bit about your journey starting off law school and after graduating from Harvard as well?
I came to law school absolutely wanting to do environmental law. There weren't that many programs back then, at any school, including Harvard. There weren't a lot of classes to take here. Environmental law was only beginning to be taught. But I did everything I could do in law school to learn what I needed to learn. I took the few classes, I joined the Environmental Law Society, I worked for the Harvard Environmental Law Review, which was created during my first year of law school. It's now been around for 40+ years. My peers and I mostly learned on our own outside of the classroom. We learned from each other, we learned from student organizations, we learned from working on projects together. And a lot of those people, from my first year of law school, are some of my closest friends now, and they're environmental lawyers in all kinds of rewarding careers. The greatest gift that Harvard Law School gave me was the opportunity to immerse myself with a terrific group of students who were motivated the way I was then motivated.
So, my law school experience was less directed to classroom learning than to experiential learning with other students — with one important caveat. There is one important lesson I discovered in law school that changed the way I thought about environmental law: The best environmental lawyers are not the best environmentalists; they are the best lawyers. If I'm trying to take care of a park or an endangered species or trying to address climate change or water pollution, I want to go in and think, "What are the legal issues?" The stakes are environmental, but the legal issue that resolves it may not be uniquely environmental. The summer after my first year of law school, I learned this while working for the Environmental Defense Fund. After my second year of school, I worked for the President's Council on Environmental Quality, which does all the National Environmental Policy Act (NEPA) work. After law school, I went to the Department of Justice and joined the Land and Natural Resources Division, which is now the Environment and Natural Resources Division. My work was all environmental nonstop, but with a broader lens. My career objectives never changed, but I had come to appreciate that it was more important to become the best possible lawyer rather than just the best possible expert only in environmental law.
What exactly is environmental law? What all does it comprise, and how grand is its scope?
There are a couple of dimensions to it. There's the pollution control side and then there's the natural resources management side. The first set of laws deals with pollution. And that can be water pollution, air pollution, hazardous waste pollution. A no less important side of environmental law is natural resources law. That's the management of natural resources, national parks, national forests, wilderness protection, endangered species protection, and water rights law. Obviously the two frequently overlap. Environmental law also exists on many levels of government. It exists on the local level (there are local environmental laws here in Urbana), the state level, the national level, and the international level. And ultimately pollution control laws and natural resources management laws are just two different sides of the same coin of environmental law.
What does an environmental lawyer do? What might a day-to-day schedule look like?
If you're working as a lawyer in the EPA, on a day-to-day basis you're taking the statutes that Congress passed, the Clean Air Act and the Clean Water Act, and you're filling in the details. So, the job of a lawyer at the agency will be to work with the language Congress wrote and then to collaborate with the scientists, engineers, and economists from the agency to write the detailed rules that impose pollution control requirements on industrial activities. The EPA attorneys who write those rules are not themselves scientists, but they speak to the experts. They translate their expertise into actual rules with the force of law. If you're working at the Department of Justice, where I spent my first years after law school, then you enforce the law. You bring lawsuits enforcing those requirements, both civil and criminal, or you defend the validity of those pollution control requirements when others file lawsuits challenging their lawfulness. Another prominent place many environmental lawyers work is with public interest groups: Environmental Defense Fund, Natural Resources Defense Council, Earthjustice, Sierra Club. Their job is to be zealous advocates for stringent environmental protection requirements. They accordingly support the federal, state, and local governments when they think government is being sufficiently aggressive — and they sue the government when they think they're not doing enough. Finally, many environmental lawyers work for law firms. Those lawyers frequently work on both sides depending on the interests of their clients. They mostly represent industries challenging environmental laws for imposing environmental protection requirements that their clients believe to be too tough. But there are also a lot of companies who do not want to fight the laws; they instead say, "I just want to know what to do," so there's a lot of counseling that happens. Because of tough environmental protection laws, there is also now a multi-billion-dollar pollution control industry in the United States — for instance, companies that provide equipment and services needed for pollution control — and lawyers who represent those industries support stringent pollution control laws.
I understand that you've represented governments on the local, state, and federal levels and various environmental groups before the U.S. Supreme Court in approximately 40 cases. Which of these have been significant to you on a personal level or simply just struck you as groundbreaking or impactful on a large scale?
I've done 40 cases; I've argued 14 of them. I'll just pick some environmental ones since all 40 weren't environmental — I've done criminal cases, all kinds of cases. One is a case in which I represented the Environmental Defense Fund in the Supreme Court against the city of Chicago. The city was collecting enormous volumes of household waste and rather than simply dumping it all on land was instead burning it in an incinerator. There was a lot about what Chicago was doing that was very positive. The city used the heat produced by burning the waste to heat homes, while reducing by about 90 percent the volume of waste that then had to be disposed of on land. The problem was with the ash residue that remained after the incineration process, and whether that ash residue was hazardous or not. If it was hazardous, it had to be disposed of in a licensed hazardous waste land disposal facility, which is very strictly regulated. If instead the ash was merely solid and not hazardous waste, it goes into a different kind of landfill, which doesn't have the same high level of protection. Not surprisingly, it's far more expensive to put it in a licensed hazardous waste landfill than in a solid waste landfill.
The city of Chicago was disposing of the ash in a solid waste landfill. The Environmental Defense Fund said, "No, this stuff is hazardous and therefore you should put it over here," in a strictly regulated hazardous waste landfill. The irony of this case is that there was really no dispute. In matters of the chemical constituency of the ash, it was clearly hazardous. The problem was that the relevant statutory language could be read to include an exemption for household waste. The legal issue before the Justices was strictly a question of statutory construction and whether the statutory language creating the household waste exemption applied to the ash. Representing EDF, I was taking the position that it didn't apply to the ash and therefore because there was no statutory exemption, the ash residue had to go into the hazardous waste landfill. The city was against me, as were most of the states in the rest of the nation, as was the EPA.
So, it was a fun, interesting case. No one expected us to win; I like those kinds of cases. And we actually won. We won the case 6-3, and Justice Antonin Scalia wrote the opinion for us. Scalia was a very conservative justice. He wasn't a justice who people think of as "pro-environmental." But we persuaded him that we were right about the meaning of the language of the statute. That regardless of what people thought as a matter of policy, that was what the statute said. It was a tough legal argument, but it was very gratifying to win and to get some conservative justices on our side, too. That's why you want to be a good lawyer, not just a good environmental lawyer. My argument for the court wasn't, "This is good policy" (though I also think it was). It was, "No, this is the law." And that's how we won.
The other Supreme Court ruling I want to talk about is an unusual case for me. I mostly represent governments and public interest groups. I rarely represent individual clients. Norfolk & Western Railway v. Ayers is a case where my clients were individuals: six retired railway workers in their 70s and older. When they were all working for railroads, the way the railroads prevented fire hazards was to coat their engines with asbestos fibers. This was before it was necessarily well known how dangerous asbestos was. And these six retired workers had all consequently become seriously ill with asbestosis, which is a significant lung disease from breathing in asbestos fibers. They had brought a lawsuit against the railroads, and the issue in the U.S. Supreme Court was whether the former railway workers were entitled to receive compensation for their reasonable fear of cancer in addition to their physical illness.
This was another case where people thought we would lose. We won the case 5-4. With nine Justices on the Court, that is of course as close as you can get. Justice Ruth Bader Ginsburg wrote the majority opinion for the court and the five Justices joining the opinion were RBG, David Souter, John Paul Stevens, joined by Scalia and Clarence Thomas. The first three were the most liberal members of the court, and the next two were the most conservative members of the court. So, we won 5-4 and lost the entire middle of the court — all the people in between. You don't typically win by getting none of the swing justices. It's like in bowling when you've got the two pins on the outside — a 7-10 split— and hit them both. It was rewarding to find a way to argue this case to get that kind of majority. It was also both very gratifying professionally to win a case people thought wasn't winnable and to secure significant compensation for six very deserving elderly clients. Arguing before the Justices is ridiculously demanding. It is also great fun. The Justices, all of them, are very smart and in 30 minutes they pummel you with about 60-70 questions. It's pretty intense, to say the least, and the stakes in law are as high as they get. But it's a blast, too.
Aside from teaching, you've also authored The Making of Environmental Law, Environmental Law Stories, and The Rule of Five — Making Climate History at the Supreme Court. Can you tell me a bit about these?
The first one, The Making of Environmental Law, is a history of the emergence and evolution of modern environmental law in the United States, and in many ways, it's my life. No, I don't mean it's about me, it's not at all. But the book is about how environmental law emerged and why it emerged when it did in the United States, and how it since evolved over time. And that's been fun for me, because it emerged in about 1970, just when I was getting into this. I have had this extraordinary opportunity to witness and be part of environmental law's remarkable evolution over the past 50 years. The book fully engages in this sweep of history. The beginning of the book involves a fair amount of science and discusses why, because of the sheer complexity of environmental science, it's very hard to make environmental law. The book also discusses environmental economics, why environmental economics likewise makes environmental lawmaking hard. And then the first edition of the book discusses how we see those challenges reflected in the way environmental law evolved in the 1970s, '80s, and '90s. That first edition was published in 2004 and covered modern environmental law's first 30 years. This summer I'm coming out with a second edition, which will take us through the next 20: through the Bush, Obama, and Trump years. So, the second edition's coverage will expand to modern environmental law's first 50 years in the United States.
The Rule of Five, which is what I'll be talking about when I come to Illinois, is a book about the most important environmental law case ever decided by the Supreme Court. This is a case called Massachusetts v. EPA, which environmentalists often refer to as their own Brown v. Board of Education because of its significance. Massachusetts was the Supreme Court's first climate change case and it led to a truly historic ruling. By a 5-4 vote, the court agreed that a party injured by climate change could sue in federal court to redress that injury and that greenhouse gases are air pollutants covered by the federal Clean Air Act. The latter ruling meant that the U.S. Environmental Protection Agency has the authority to restrict greenhouse gas emissions as needed to address the threat of climate change. Almost every single thing the EPA has done since the Massachusetts ruling to reduce greenhouse gas emissions is based on that court decision. My book, The Rule of Five, tells the story of the case. The case was decided in 2007, but it began in the late 1980s. I tell the full story of the young public interest and government lawyers who initiated the litigation that led to this history-making Supreme Court decision: who they were, the enormous hurdles they faced in bringing the case, the efforts of the federal government and industry to stop them, and the battles and conflicts the lawyers faced on all sides of the litigation in crafting their opposing arguments. The story extends to what happened at the Supreme Court itself behind the scenes, in the chambers of the Justices as they discussed, debated, and finally wrote their opinions. So, it's a very engaging, often suspenseful, and ultimately uplifting story about one case.
Why is introducing people to environmental law more important now than ever?
There are many important environmental issues today, but obviously one of the most important is climate change. Climate change is a massively hard problem to address, and we're struggling. And it's not going to go away soon. My own generation of environmental lawyers, scientists, economists, and policymakers have been working on it for decades, with limited success. We need new generations of talented and committed people to come in, reinforce, and bolster those longstanding efforts. We need people with new ideas about how to address these issues. It's very important to get a new generation of people to come in and take over, including some outstanding environmental lawyers. And that's why I teach. I do a lot of stuff. I do a lot of litigation, I do a lot of writing, I love it. But probably the single best thing I do is launch students: teach them, promote them, help to get them jobs, and then send them on their way. I probably have had 40 of my students go on from law school to work as environmental lawyers at the Department of Justice, where I began my own career after law school. And I have many former students working at EPA, the Department of the Interior, with state and local government, with environmental groups, with law firms, and some now with industry committed to developing solutions to the climate crisis. That's probably the single most important thing you do as a teacher: Launch terrific, hard-working, and committed people into their careers.
You are a professor at one of the top law schools in the nation. Tell me about your students. What does the future hold for the field of environmental law?
My students are highly motivated and hard-working. They often come to law school with a commitment to environmental protection that can be traced back to their childhoods, and that is reflected in classes they took in both high school and college. They come so well prepared, whether it's from a policy or science or government perspective. Many of our students have been out of college for a year or two before coming to law school, so they've worked at different jobs. The students here at Harvard are not surprisingly very smart. But being very, very, very smart is not enough. You need to be hard-working and resilient. If you do this work, it's hard work. You're not always going to succeed and will lose a lot. So, we're looking for people who are smart, that's fine. But we're looking for people who are resilient, hard-working, high-achieving, persistent, and kind. Law — especially environmental law — is very collaborative. No one person is going to do this on their own. They need to work well with others. I'm looking for that as well. And I've got a lot of them who are enormously talented, hard-working, and kind-hearted. Many of them not surprisingly are UI alums! I have one in my class right now. They're literally chomping at the bit to go out there and do good things. I think the future is in good hands. It's a great time to be an environmental lawyer. It's a hard thing to master, which means that if you've mastered it, you can make a big difference.
What would your message be to students at the University of Illinois who wish to be the next generation of environmental leaders, and how can we stay hopeful?
The first thing to do is to work hard. I spent more time in the UI library than at the Red Lion or Murphy's. You can have a good time in college, but it's important to take your studies seriously. You want to develop the skills to show that you can learn how to problem-solve, and I received a fabulous education at the UI from so many outstanding professors and classmates. There is nonetheless one transformative skill that I learned from my time as an undergrad at Illinois — more important than anything else — that has served me well: I learned how to face a tough problem, not be unduly intimidated by it, and take the time needed to figure it out. It is important to be passionate about one's work, but it takes more than passion to problem-solve. It requires hard work, discipline, rigor, and unbending focus. There are no substitutes.
How to remain hopeful? Well, that's harder. Our nation, let alone the world, is not doing so well on the climate issue. The climate news each month always seems increasingly dire. But I always strive to be optimistic and hopeful. If you want to be a pessimist, you should probably wrap it up, because it's very easy to be a pessimist, but then you're not going to want to keep at it. People need to remember and believe that there's hope, and we can still effectively address the climate issue. The work is too important not to be done.
About the Author …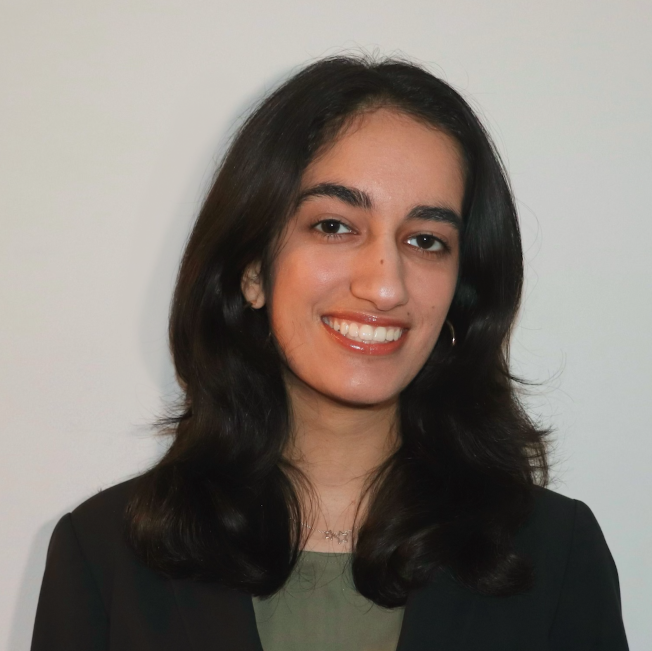 Kratika Tandon is a sophomore from Peoria, Ill., and is a Communications Intern with the Institute for Sustainability, Energy, and Environment (iSEE). She is studying Natural Resources & Environmental Sciences (NRES) with a concentration in Human Dimensions of the Environment. She is also pursuing a minor in Political Science and plans to attend law school after graduation.
Q Magazine and iSEE commissioned Tandon for this piece.