By Nicole Pinsky
"Gnocchi al pesto for the table, per favore." My three roommates and I sit under a yellow umbrella at Ristorante Bar La Torre, a touristy spot along Italy's Vernazza Beach. Our table overlooks the sparkling Ligurian Sea. Belonging to a cluster of five towns along the Italian Riviera, Vernazza is also known as Cinque Terre: the birthplace of pesto. The hot Mediterranean sun tingles on my bare arms as I watch waves crash against the rocks. The charming Italian waiter smiles as he pours four glasses of pinot and sets a vibrant green dish of pasta in the middle of the table. Never have I ever tasted anything so fresh! I can taste the earth in the pesto, in the best way. Sitting along the coast, eating authentic cuisine and sipping a glass of crisp white wine, I've never felt so lucky. I savor every bite, sip, and spray of saltwater. I could sit here all day — and we just might!
Clearly, they don't call it "slow food" for nothing.
Even after studying in Italy for three months, I was still pleasantly surprised by every dish I ordered. Why? The food itself is only the beginning. It's all about the culture behind the food — the generations of practice and perfection behind every dish, drink, and dessert. The Italian people treasure every meal …
Italy is one of 160 countries that are part of the international slow food movement. Slow food became a hot topic in the 1990s to promote human health and combat environmental degradation. It aims, moreover, to "prevent the disappearance of local food cultures and traditions, counteract the rise of fast life and combat people's dwindling interest in the food they eat, where it comes from and how our food choices affect the world around us." Throughout my semester in Rome, slow food was a phenomenon my friends and I relished daily. But on my return home, the stark contrast hit me between Italian eating culture and the United States, where food is anything but slow.
The United States is not part of the slow food movement. As Americans, we are always looking toward the next thing. In a country reliant on efficiency and multi-tasking, food often becomes an afterthought. Italians simply cannot fathom such ideas as scarfing down McDonald's in the car between meetings or skipping breakfast because there just isn't enough time. However, as we all know, from the first day McDonald's opened in the U.S., it has built an enormous, loyal market. The number of franchises climbed to 1,000 in the first decade. For all the countries where McDonald's has spread, the company still makes the majority of its revenue from the United States. Our reliance on fast food, most obviously symbolized by the famous "golden arches," has negative health impacts that are felt nationwide. For example, 37% of adults and 17% of children in the U.S. are considered obese. American eating habits are making an impact on the country's overall health, with diet-related heart disease, stroke, and diabetes ranking as our top health concerns.
With numbers like these, we could take a few pages from Italy's cookbook. In recent years, more Americans are starting to realize the importance of healthy and sustainable dining. The number of U.S. farmers markets increased by 300% between 1994 and 2008, and farm-to-table restaurants are emerging across the country. As "going green" becomes a much-needed trend, restaurant owners and chefs are looking to countries like Italy for slow food and sustainability inspiration.
Slow Food 101
During my four months in Rome, I learned quickly why Italians hold daily meals so dear to their hearts. I was able to witness firsthand the traditional farm-to-table process. I had the pleasure of visiting many people in the food industry to hear their testimonials about why slow food is essential to quality of life.
One day, we were dropped off on the side of a dirt road and told to follow the signs for "Il Casale di Martignano." The air was clean and crisp an hour outside of Rome. It was so quiet and peaceful, surrounded by vineyards and rolling green hills. I made my way down a winding path toward an agritourism farmhouse (agriturismo vicino). According to the business's webpage, "The philosophy that distinguishes the farm is linked to sustainability and respect for nature." The estate doubles as a farm and a venue, hosting weddings, events, and educational classes using foods they grow right there on the farm. The kind-eyed owner guided us on a tour with what little English she knew. Our language barrier did not detract from the obvious pride she had for her business. We fed the pigs and cows as we walked through the grounds to the top of a hill overlooking acres of crops. We made our way into the kitchen, where we learned how to make ricotta cheese — and tips on how to make a sustainable business flourish. We ate a lunch of Italian meats, cheeses, vegetables, and homemade wine. I was surprised by how different everything tasted when it is truly fresh and nutrient-rich, and felt envious of the luxury of enjoying a food culture like this every day.
My next stop was Tenuta Vannulo, a certified organic buffalo mozzarella farm. The husband-and-wife team talked us through their journey of becoming certified organic by the Environmental and Ethical Certification Institute (ICEA). The ICEA certificate means they promote the development of organic farming and "work with respect for people and the environment, protecting the dignity of workers and the rights of consumers." The buffalo at Tenuta Vannulo are treated in the most humane way possible, living long and healthy lives. The farm produces mozzarella, milk, yogurt, and gelato that is distributed locally and sold at the farm. Locals arrive at dawn every morning to buy fresh products for their restaurants and homes. I asked the owners why they decided to open a buffalo farm. They smiled and explained that they wanted to create a place for these buffalo to live happily while supplying the community with good, clean food products.
Each stop on my slow food Italian tour was better than the last. These businesses make their living promoting slow food's two most important goals: tradition and sustainability. In their own ways, they all do their part to reduce emissions and maintain traditions. Almost every restaurant I went to was family-owned and offered deliciously limited menus consisting of only local and fresh ingredients. People spent hours eating meals together and enjoying every minute.
Even outside the focus on farm-to-table dining, I quickly learned that the Italian restaurant culture was very different from the United States. For example, Italians do not believe in to-go boxes, and it was considered rude to leave food on your plate. This means you stay at the restaurant until you finish everything, no matter how long it takes — giving "slow food" a new meaning! Servers would never ask if you are ready for the check, and families and friends sit at the table for hours, talking, laughing, and enjoying each other's company (and, of course, the food). Some say the slow food movement is a big part of Italian culture, but I would say it was their culture long before it became a movement. Their main goal has been and always will be to ensure that everyone has access to tasty, sustainable food imbued with love of family and tradition.
I remember thinking to myself, "I wish we had places like this back home." So, when I returned to Chicago last summer, I embarked on a research project to find local restaurants that use farm-to-table to promote sustainability and the slow food movement. I was pleasantly surprised by what I found …
From Italy to Illinois
Today, Chicago is filled with neighborhood restaurants that do their part to buy locally. These neighborhoods are usually up-to-date with the recent trends, including environmentally conscious dining.
First stop: Publican Quality Bread in Chicago's Fulton Market area. Fulton Market, located on the city's West Side, is an up-and-coming neighborhood filled with unique restaurants and businesses, very different from the Roman neighborhoods I knew. However, many of these restaurants share values with traditional establishments in Rome. Publican Quality Bread and its sister restaurant, Publican Quality Meats, know the value of local farming to source ingredients.
I sat down with head baker Greg Wade to better understand his views on sustainability and farm-to-table dining. Early on in his career, Wade realized the importance of using local food — and having a strong relationship with local farmers. He came to this realization while working at Girl & the Goat under Chef Stephanie Izard, the first female winner of Bravo's "Top Chef." As head baker, Wade has developed an entire wholesale wing of Publican restaurants. His bakery specializes in "using ancient and whole grains farmed sustainably and locally." Produce comes from a farm in central Illinois — Spence Farms — that practices sustainable agriculture by "using chemical-free or certified organic practices, pastured livestock, and non-GMO seed." Wade connected with sustainable farmer Marty Spence while working at Girl & the Goat. When Wade moved to work at Publican, he brought Marty with him. Wade now receives deliveries from Spence every Wednesday with products for his bakery (and his own groceries as well!).
Wade is passionate about building up farmer support and using products derived from sustainable agriculture. So passionate, he founded the Artisan Grain Collaborative to create a community of chefs and farmers to work together to achieve sustainability goals like creating regenerative agricultural practices ("farming and grazing practices that … reverse climate change by rebuilding soil organic matter and restoring degraded soil biodiversity") and improving the health of communities and local economies — goals very much in alignment with the slow food movement.
Publican Restaurants aren't the only Chicago eateries participating in the farm-to-table phenomenon. Located in the West Loop, not too far from Fulton Market, is another trendy restaurant called Eden. The inside is decorated cleanly and simply, with greenery scattered throughout — a fitting décor choice to match the eatery's eco-conscious values. As stated on the website, "Eden, located in the West Loop, is a contemporary restaurant focused on new American and fresh cuisine. With emphasis placed on clean cooking and sustainability, Eden sources the majority of its ingredients from an on-site greenhouse or local farms and purveyors."
Homestead on the Roof is another "green" restaurant located in Chicago's Ukrainian Village neighborhood. Homestead is a rooftop venue boasting 7,000 square feet of garden space. The owners describe their planting process on their website: "Our first planting begins in early April, typically with hearty greens and durable produce, and we plant three more times until early autumn. We write our menus based around our planting schedule allowing the chef's complete freedom to let the season's bounty dictate the direction they take their food." Rooftop gardening certainly follows the goals of the slow food movement. It showcases the restaurateurs' interest in the food they serve and their pride in serving fresh and nutritional ingredients.
After exploring sustainable cuisine in my hometown, I was surprised to find so many examples of the slow food culture I had only associated with Italy! Restaurants like these are increasing awareness of the importance of the slow food movement and sustainable farming. Beyond Chicago, chefs throughout the country see the Italian way of slow food and farm-to-table as a cure for the American fast food mindset. These chefs expose our unhealthy American food culture for all to see — but is it enough? 
New Menu Options

The U.S. population is more than five times greater than Italy's, with many different traditions and cultures. Is the Italian way of living realistic for the U.S.? According to the World Health Organization, Italy's average life expectancy is five to 10 years higher than the United States, while its obesity rate is significantly lower (21% versus 33% in the U.S.). There is no question that we live unhealthier lives compared to the Italians, but it may not be completely our fault. Therootastes.com explains that "industrialization came with advances in agriculture and a shift in the demographic from rural to urban settings. Not only did the population boom, food had to travel farther than it used to, many times arriving past its peak of freshness."
In other words, our food culture is based on how to generate the highest yields and ship it all over the country. When produce is out of season, we get it from other countries. We always look for the most efficient and convenient way of feeding our 327 million people (compared to Italy's 60 million). This brings us face-to-face with the question of whether more people necessarily equals compromised health.
One challenge to building a more sustainable and healthy food culture in the United States is the widespread existence of so-called food deserts. Medical News Today defines food deserts as "… areas where people have limited access to a variety of healthful foods. This may be due to having a limited income or living far away from sources of healthful and affordable food." According to a Tulane University infographic, 23.5 million Americans live in food deserts. In a country where millions of people lack access to fresh foods and grocery stores, the farm-to-table style of eating might seem unreachable. With race and income greatly affecting one's diet, how can everyone in the U.S. benefit from farm-to-table ingredients? Government initiatives like the Healthy Food Financing Initiative (HFFI) and Michelle Obama's "Let's Move!" campaign are helping solve this problem. Both "Let's Move!" and HFFI share the goal of bringing healthier alternatives to underserved communities across the U.S. With the help of these initiatives and many nonprofits around the country, the U.S. is slowly working toward a healthier relationship with food.
There are many differences between American and Italian food culture. Italian food culture might be healthier and more environmentally friendly, but I believe that the U.S. can work its way up to those standards. As more farmers, chefs, and advocates make their mark on cities like Chicago, word is spreading of the importance of slow food. Wade's goals for the future are to increase food production in a healthy way and promote regenerative soil with low fertilizer inputs. Ultimately, he's looking for a radical change in how the United States views its agricultural production, system wide.
My hope for the future is to have the same experience in Chicago — or anywhere in the U.S. — as I had that golden afternoon in Cinque Terre. I want to be as food fulfilled as I was on the coast of the Italian Riviera, eating dishes so fresh I could taste the earth. These are reachable goals with progressive food programs and a holistic slow food philosophy. Also essential? Our support, as consumers, for farmers and chefs who are making a difference, making us healthier, and delighting our palettes.
About the Author …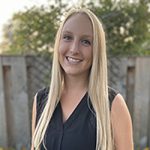 Nicole Pinsky is from Park Ridge, Ill., and graduated in May 2020 with a B.S. in Earth, Society, and Environmental Sustainability with a minor in Public Relations and the Certificate in Environmental Writing (CEW). She recently began working in a human resources role for W.W. Grainger, an industrial supply company in Lake Forest, Ill., and hopes to move into the company's sustainability division. This piece was researched and written for ESE 498, the CEW capstone course, in Spring 2020.