By Maria Maring
In August 2019, Natalie Kofler joined the Institute for Sustainability, Energy, and Environment (iSEE) as the first Stuart L. and Nancy J. Levenick Resident Scholar in Sustainability Leadership. She is a trained molecular biologist with extensive experience working with the controversial gene-editing tool commonly referred to as CRISPR (which stands for clustered regularly interspaced short palindromic repeats). Now as the Founder and Director of Editing Nature, she concentrates her efforts on expanding the discussion on the moral and ethical implications of such actions.
Fellow University of Illinois undergraduate Gwenna Heidkamp and I sat down with Kofler during the Fall 2019 semester to discuss her multidisciplinary platform that focuses on fostering more inclusion, integration, and innovation in the practice of science, and creating meaningful decision-making processes.
Q: Thanks for taking the time to meet with us. So, first and foremost, how did you get to where you are now?
While a Postdoctoral Fellow at Yale in the Department of Cardiology, I realized I had totally lost track of what was going on in the broader world; I was just studying these tiny little molecules in one single cell under a microscope. I felt as if only parts of me came into the lab, and there were huge parts of me that were being left outside. I was feeling fragmented and separated from important issues that our world is facing.
While hanging out at the Yale School of Forestry and Environmental Studies, I attended a talk on invasive species. There, I first wondered about genetic technologies in the environment — applications of CRISPR for public health issues, eliminating invasive species, or protecting threatened species. It was one of those "aha" moments where I realized this was a really unique space in which I understood the technical aspects of the science, and I really cared about it. I felt like this was a place where I could have an impact.
I finished up my paper in the research lab and moved to the School of Forestry. I had a year-and-a-half contract to build Editing Nature — a program that brought together interdisciplinary experts from all over the world to talk about genetically engineering the wild. We had some significant publications, and I was able to attend some top U.N. meetings to represent our perspectives and policy recommendations. 
However, I was experiencing a lot of challenges at Yale. No one knew where I was coming from or what to do with me. I have a science background, but now I have on this ethicist/policy hat, even though I don't have official training in those spaces. I'm starting to teach environmental ethics even though I have never taken an environmental ethics class in my life — which I think is good because it's a new perspective, but the interdisciplinary nature of my work makes it hard to find an institutional home.
Then I was given this opportunity to come here (to the University of Illinois at Urbana-Champaign) for the year to continue building my ideas and figure out next steps. I'm in the process of figuring out what the next phase is. If I stay in academia, it will require a unique space where I can do this — or I have to try to create a position that would allow me to continue this work.
Q: This is some really complicated science you work with. Could you describe CRISPR in just a couple of sentences?
It is a molecular tool that makes genetic engineering easy, inexpensive, and precise. Historically, engineering genes was a pretty brute-force, sloppy process; you had to incorporate or delete entire portions of DNA. CRISPR is able to change — at the single base-pair level — genetic sequence.
CRISPR has also allowed for the engineering of a CRISPR-based gene drive. Say you want to introduce a mutation that would impair a mosquito's ability to transmit malaria. Of course, you don't want to do that in just one mosquito; you want to do it in the entire population. If you CRISPR-edited that mutation and released even hundreds of thousands of mosquitos, eventually through natural selection, they would get eliminated from the wild population. Then the normal, malaria-carrying mosquitos would continue to thrive. However, the gene drive is self-propagating, meaning it has the ability to continue editing the genes through generations with 100% inheritance. In only a few generations, the entire population can be transformed.
Q: Where do you draw inspiration?
Braiding Sweetgrass by Robin Wall Kimmerer. I read it while I was still in the lab, unhappy with what I was doing, but not knowing what I was going to do next. Kimmerer proposes an environmental ethic that is based on reciprocity – this idea of being in gratitude for all that Earth gives us. A way to show that gratitude is to use our own individual gifts to contribute to making a more healthy and flourishing society and planet. 
I've also been really inspired by young people because they have this openness to doing things differently and making change in some really radical ways. That keeps me very optimistic and inspired. And I feel a responsibility to at least pave the way a little bit to make that job for you all a little bit easier. Because I think this next generation is going to be really shaking some stuff up.
Q: You've mentioned that you're still figuring out what your next steps are. What are your tentative plans for the future?
There are three branches on my tree of change.
First: How do we start thinking about changing the culture of science? How do we change how we train scientists in order to elevate new sets of virtues in science and decrease ones that aren't working? Like humility instead of hubris, and cooperativity instead of opaqueness. We need to elevate inclusion and diversity.
Second: How can we create meaningful communication in the conversation between scientists, the public, and regulatory makers to improve how we make decisions? It's really about changing decision-making, dispersing power in decision-making, and including a broader set of perspectives in how we make choices. 
Third: How do we empower the voices that haven't been in these sorts of decisions? It's one thing to create these platforms that allow for more public deliberation, but if the voices we need to hear aren't heard, then the rest of it doesn't work. And that doesn't only include historically marginalized human voices like women, people of color, people from the global south, people with disabilities … . I'll go even further: Who will speak for nature or future generations? How do we speak for those who don't have a voice? I have the opportunity to amplify awareness for those who don't have a voice, figuratively or literally. This last year and a half, I've really just focused on changing the tone of that conversation. I've been really lucky to have opportunities to do that, and I think it is having some impact. But moving forward, I think now it's really about a little less talking and a little more doing.
What's beautiful about all three of those branches is they require all hands on deck from many different disciplines — different places in the world. I see my role not as producing those answers, but being the person who can unite people to help create these solutions.
About the Authors …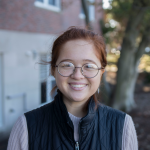 Maria Maring is a sophomore from Carbondale, Ill. She studies Earth, Society, and Environmental Sustainability (ESES) and Spanish — while also pursuing the Certificate in Environmental Writing (CEW). In Spring 2020, she was hired as a Communications Intern with iSEE.
Gwenna Heidkamp is from Riverwoods, Ill. She will graduate from the U of I in May 2020 with a B.S. in Earth, Society & Environmental Sustainability (ESES). She is finishing up the CEW and aspires in her career to help create a more sustainable world. Currently, she serves as the Greener Campus Programs Intern for iSEE. 
Q commissioned Maria and Gwenna — both promising new Q writers — for this interview during the Fall 2019 semester.